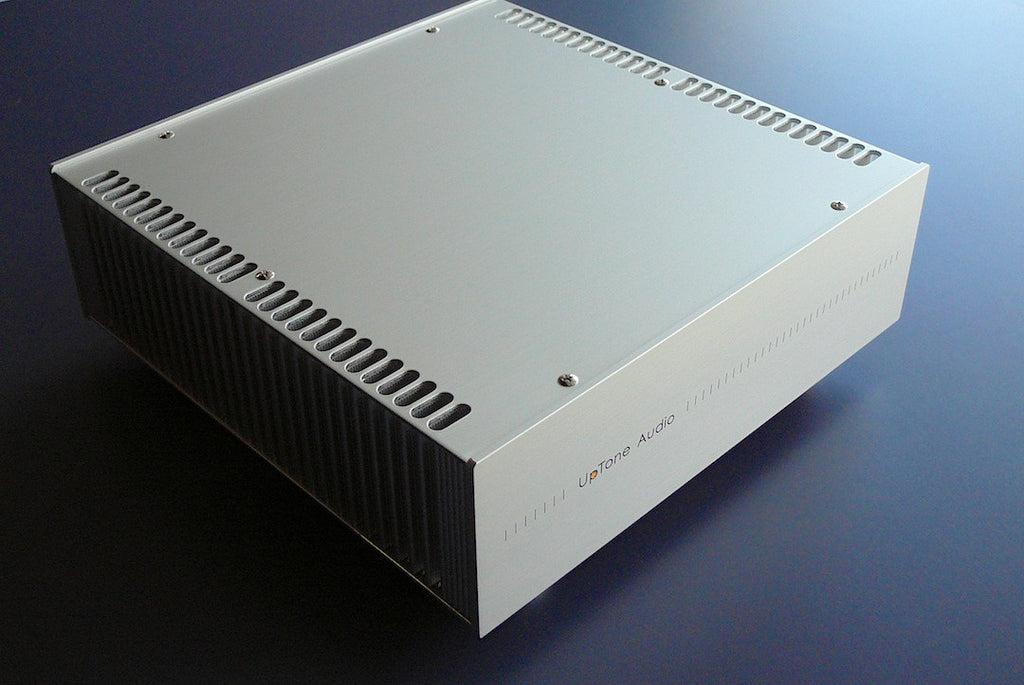 JS-2 Linear Power Supply
It always pleases us—and our clients—when the JS-2 is used to power a quality audio component such as a DAC or DDC (as opposed to various computers/streamers, NAS, etc.—which it does fine as well). Many of 250 JS-2s we build each year go to owners of DACs such as the popular Mytek Brooklyn DAC+, and everyone of them has written to praise the pairing. A formal review of the Brooklyn/JS-2 combo, with comparisons, was made in a feature article at Computer Audiophile. Please enjoy
"My Quest for a New DAC Part 1 - The Mytek Brooklyn DAC+ with UpTone JS-2 Power Supply."
..
Quotes from just a few of the many people around the world who write to us regarding their experience with the JS-2 in their music systems:
From Center Valley, Pennsylvania:

"Hi Alex, I just wanted to let you know how much I was enjoying my JS-2.  It's taken my Brooklyn Bridge to a new level.  

I've had the JS-2 for a few weeks now and on Saturday morning I put the SBooster I used previously, back into my system.  That really helped me to understand just how much more I enjoyed my system with the JS-2 in place.

The top end is absolutely wonderful, beautifully detailed and extremely lifelike.  The bass is very articulate and it really sounds like live music.  The sound stage is wide and deep; the layering makes listening to music a truly enjoyable experience. 

Thank you very much.  Your company makes some wonderful products and you are a pleasure to do business with. Thank you again. . .–Jim M.
From Italy:

"now… must confess I was a little skeptical about linear power supply benefits
(ok, ok: I thought there was going to be some "ethereal" improvement)
all I can say from the very instant music begun to play is… HOLY COW!!! :-)
great job indeed, Alex!
Best, Paolo"
From Goldsboro, North Carolina:

"Hi Alex.  I just wanted to let you know that my JS-2 just arrived and I am in a state of shock.  You can read reviews all day but experiencing it is another story.  This just blows away anything I have tried regarding power supplies and wow is it well made!  This is an amazing product and what I should have done a long time ago.  Thank you for calling me back and making everything so easy.  
Dual-output, choke-filtered linear power supply with four user-selectable DC output voltages.  
Two independently adjustable, separately regulated outputs; Voltage choices are user set from the back panel: 5V, 7V, 9V, or 12V.  
Guaranteed continuous current capability:
Instantaneous capability of up to 10A
(Above is split between outputs, depending upon DC voltage combination; 12V rating is with AC mains input of 120V or 240V, 12V current capability is lower from 100V, 110V, or 220V wall voltages.)
The outputs of the JS-2 are tight, heavy-duty 5.5mm x 2.5mm barrel jacks.  DC cables are NOT included with the JS-2. Please look to our new SAPPHIRE silver-plated, star-quad DC cables sold separately. Request your choice of cable(s) when you make your JS-2 reservation and they will be billed and shipped with your power supply.
Dimensions: 9.0 inches wide x 9.1 inches deep x 3.3 inches tall (with feet).
Weight: 10.5 pounds; 14 pounds in its full double-box shipping cartons (shipping dimensions 14"x14"x9").
Warranty: 2-year parts and labor (excludes shipping costs after 90 days).
Made in U.S.A.  
Ships via insured Priority Mail 2-day service ($25~$55) in the US. Outside the US via door-to-door FedEx International Express ($95 to most countries; $65~$75 to Canada).
Includes: 2-meter, 16AWG, shielded AC power cord (USA mains plug, but you can cut and attached an appropriate local plug; it is a good heavy and shielded cord, so adapting it is worthwhile.)
The JS-2 can operate in 100/115/120V or 220/230/240V countries. We install the appropriate fuse and turn the configuration fuseblock for your country before shipment. Users can adjust from the back panel.
******************************
The choice to use a costly, custom, electrostatically shielded 100VA R-core transformer is highly beneficial to the JS-2 design.
Just powering the computer, the difference—between the R-core and a toroidal transformer in the bass was shocking. And in comparisons powering a DAC or other audio-signal-handling component, the sonic benefits ranged top-to-bottom, cymbals and piano to deep bass.  Plus R-core transformers, due to the gapless construction of the core, are mechanically silent. 
John Swenson on the benefits of a choke-filtered linear power supply:
The traditional cap only filter (transformer, diode bridge, big cap) produces raw DC with a sawtooth riding on top. That sawtooth produces lots of high frequency components that the regulator has to deal with. Traditional regulators do very well at low frequencies, but have lousy characteristics at high frequencies which means a fair amount of those high frequency components from the cap-only filter get through to the regulator. Fancy discrete regulators do well at blocking the high frequency components, but add cost and complexity to a PS. Our approach is to use a properly designed choke-based supply whose ripple is a perfect sine wave, no high frequency components, thus a traditional regulator works very well. The discrete regulator is not needed to deal with the high frequency components, since there aren't any.
All diode types except Schottkys emit a burst of ultrasonic noise as they turn off. This noise can go forward into the load circuit AND it can go back into the AC line, and it can also excite the transformer resonance. The "slow" diodes still have this ultrasonic noise. Schottkys are the only type which do not have this noise. Schottkys also usually have about half the voltage drop of other diode types and are usually faster. Which type to use depends a lot on what your supply looks like and what you are trying to optimize for. 
With a traditional low voltage design with a large cap right after a bridge you get large current spikes, these produce a large amount of high frequency noise which needs to be filtered by what comes after the cap. In this type of circuit the slow diodes can help cut down on the extent of the high frequencies generated by the sharp high current pulse. BUT they still generate the ultrasonic noise.

This is another reason why we like to use the choke-based design. With the choke there is no steep high current pulse, so no disadvantage to Schottky diodes. You get the advantage of no ultrasonic noise, lower voltage drop (so lower power consumption in the diode) and no big massive current pulses.